Co-owners of Five Parks Animal Hospital, Page Mader and Susan Wass, met as professional colleagues at a small animal clinic in Denver. Their passion for organized management, quality veterinary care and excellent customer service united them as colleagues. As co-managers, they became close friends and realized a shared dream of entrepreneurship. The concept of Five Parks Animal Hospital was born over breakfast, coffee and a coke on a restaurant patio on a sunny winter day.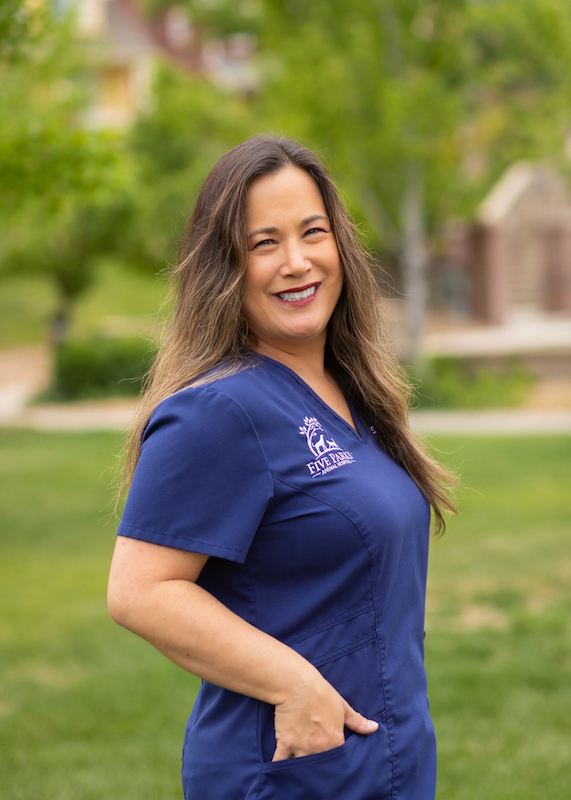 Susan Wass | Co-Owner, Hospital Administrator
Susan grew up in the big city of Los Angeles, California and moved to Colorado in 2006. She holds a bachelor's and master's degree in English from California State University, Long Beach. She also attended University of California, Los Angeles and graduated with a specialized two-year degree in writing for film and television. She was a high school and collegiate volleyball player who played competitively all her life.  
Her passions in life include animals and writing. Susan began her career in veterinary medicine as a receptionist for a 3-doctor small animal practice in Los Angeles. It was there that Susan realized her true passion for animals and the beautiful bond shared between owners and their pets. She discovered she could combine her love for animals and writing through veterinary practice management. Since then Susan has successfully managed two AAHA-accredited hospitals in Los Angeles and Colorado Springs. 
After 22 years of service in a management role she decided to pursue entrepreneurship. Susan moved to Denver in 2019 where she met her now business partner, Dr. Mader. It was their friendship and shared business ideologies that led them to embark on a new business venture together. On her days off, Susan enjoys hiking, yoga, cooking and watching movies with her husband Eric. They share two adult sons and a spoiled 5-year-old orange tabby named Goose.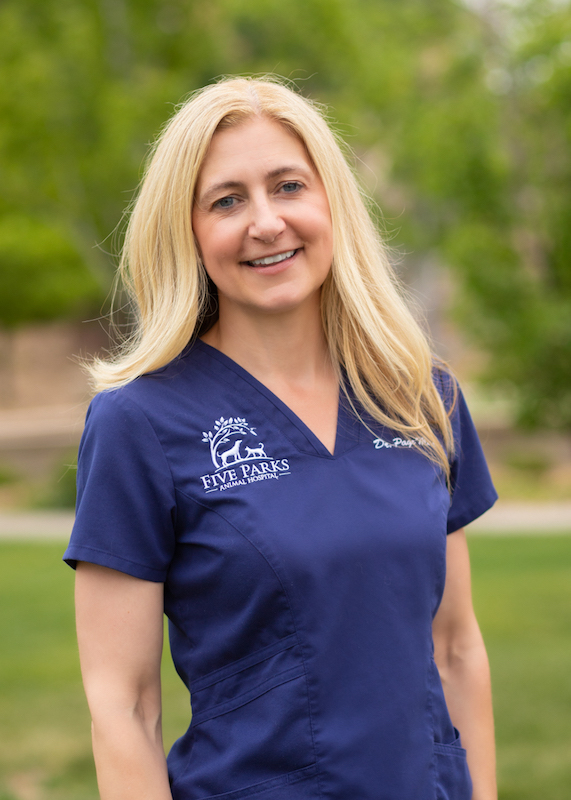 Dr. Page Mader | Co-Owner, Veterinarian
Dr. Mader was born and raised in Connecticut but has lived all over the country before landing in Colorado for the second time. Her path to veterinary medicine may have evolved from an unorthodox route but was more impassioned and compelling than most. Her previous career in online marketing was stimulating but left a void in self-purpose. Soul searching beyond a traditional career track led her to embrace what has always provided immense satisfaction…a love of animals and concern for their welfare.
She earned the "total package" award for being a remarkable student at Colorado State University where she earned her Doctor of Veterinary Medicine degree. Dr. Mader's polished client communication skills, thorough approach to medicine and empathetic nature has resulted in a loyal client base wherever she has been employed. Her love and compassion for animals resonates in every detail of her day-to-day endeavors.
Practice ownership has provided an opportunity for Dr. Mader to redefine the culture of veterinary medicine. She strives to create a positive and supportive work environment that focuses on collaboration, exceptional medicine and second-to-none service for beloved clients and patients.
Outside of the hospital you'll find Dr. Mader on a hiking trail, at a sporting event or dining out with friends. She shares her home with a senior gray tabby named Ruby.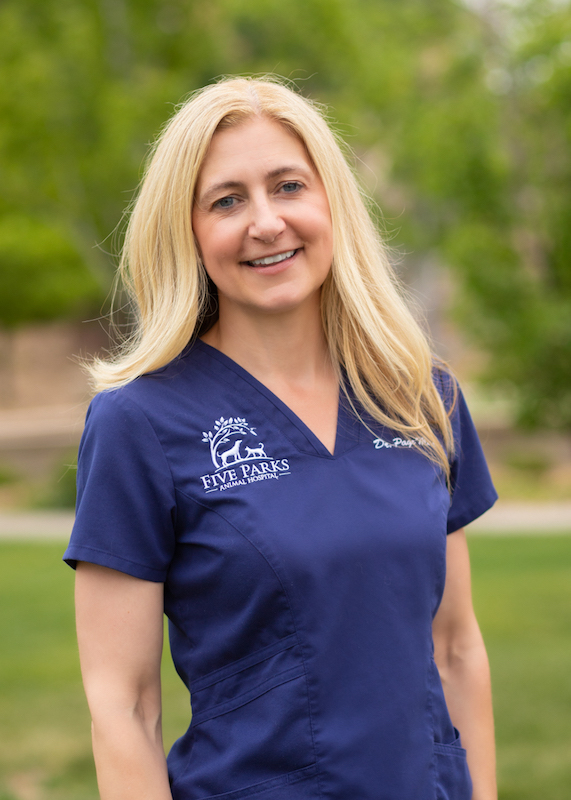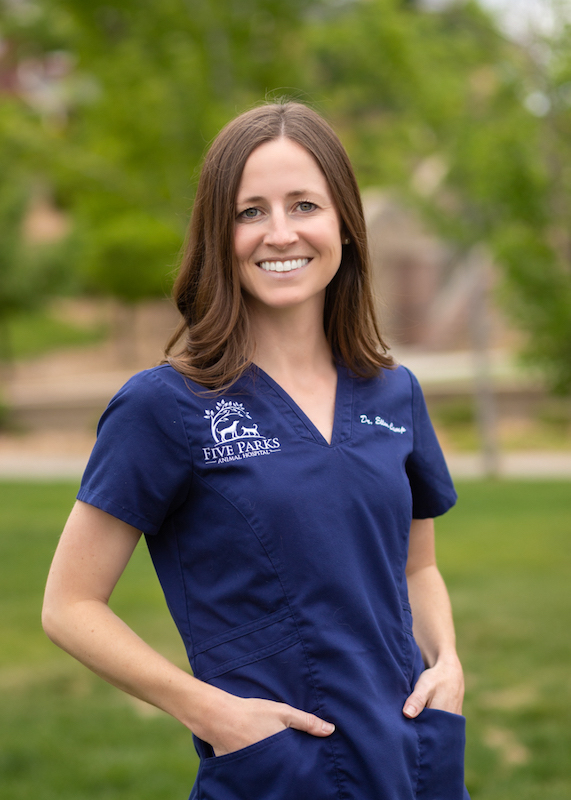 Dr. Ellen Camp | Associate Veterinarian
Dr. Camp is originally from Louisville, Kentucky where she first discovered her love for animals watching the beautiful horses at Churchill Downs. However, it wasn't until she was an undergraduate student in Nashville that she fell in love with veterinary medicine.
Dr. Camp earned her Doctor of Veterinary Medicine degree at the University of Tennessee where she received excellence awards in small animal surgery, ophthalmology, anesthesia and pain management. She has practiced small animal medicine in Johnson City, Tennessee as well as Denver, Colorado before joining the team at Five Parks Animal Hospital. Dr. Camp is passionate about surgery, dentistry, ophthalmology and building relationships with patients and clients alike.
In her free time, Dr. Camp enjoys hiking, golfing, supporting her husband's soccer team, trying new restaurants and live music. She became a new mom in 2020 upon the birth of her son Harrison. She shares her home with her husband Brad. She loves exploring Colorado with family and friends.
Dr. Camp returned from maternity leave in June 2023 after welcoming her twins, Eva and Harrison, into the world in January!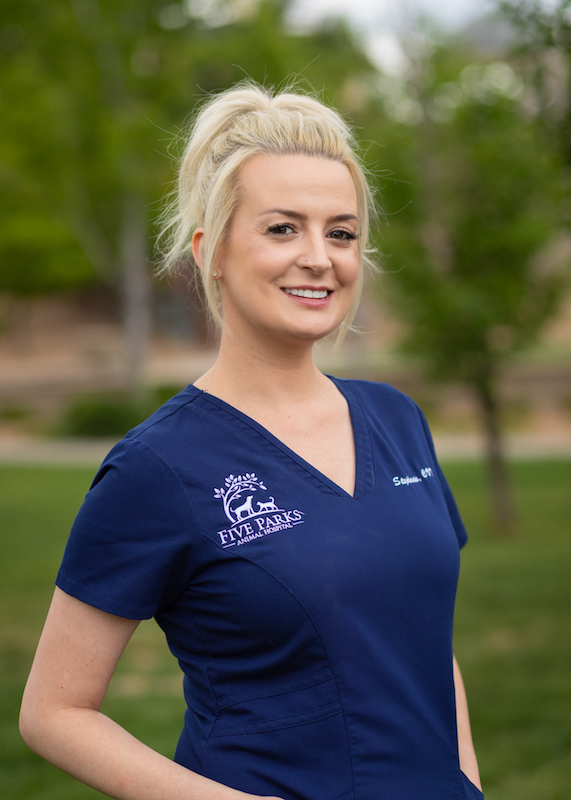 Stephanie | Registered Veterinary Technician
Inspired by her mother's passion for rescuing animals, Stephanie began volunteering at local animal shelters as a teenager and fostered animals as a young adult. She set her sights on becoming a veterinary technician and obtained her certification in 2016.  She has experience in a variety of aspects of veterinary medicine including small animal general practice, wildlife, and shelter medicine.
After graduation, Stephanie was hired by a general practice in Lone Tree where she diligently worked her way to management. Her interests within the field include laboratory, pharmacology, and parasitology.  She even has a parasite collection at home!
Outside of work, Stephanie enjoys indulging in all things warm Colorado weather has to offer.  You'll often find her camping, hiking or paddleboarding.  Otherwise, she loves concerts, soccer games or simply spending quality cozy time with her beloved dog named Jack.  She recently discovered a love for travel where she has visited various national parks and even traveled abroad for the first time. 
Stephanie has always been deeply passionate about animals and is committed to providing the best care for her patients. She was drawn to Five Parks Animal Hospital because of their commitment to a better work environment, dedication to clients and patients as well as their beautiful and well-maintained facility.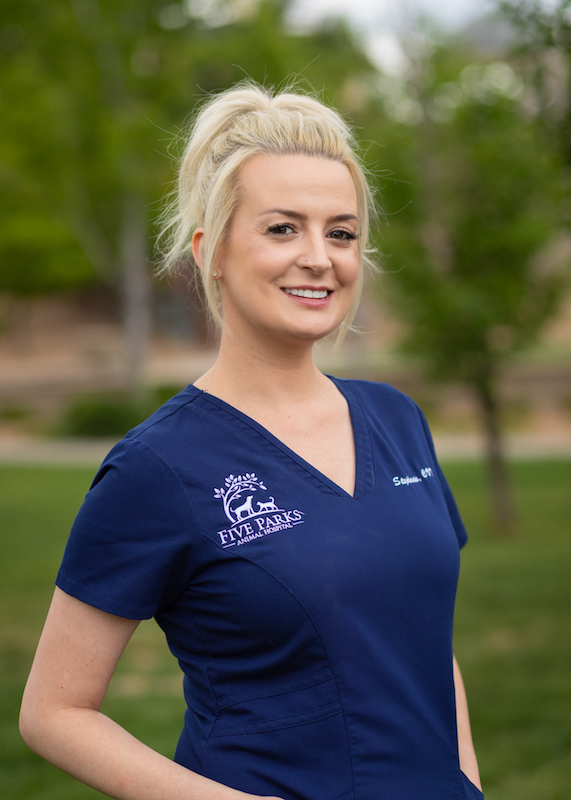 Lisa | Registered Veterinary Technician
Lisa has worked with animals in many facets throughout veterinary medicine including small animal general practice, shelter medicine and zoology.  After earning her bachelor's degree, Lisa worked with reptiles and amphibians as a zookeeper on the East Coast.  Her work as a zookeeper allowed her to travel with several live mobile animal exhibits throughout the United States and Canada.  Lisa fell in love with Colorado on one of these trips and set a goal to move to the Midwest so she could eventually call Colorado home.
Lisa has worked as a veterinary technician with companion animals and exotics since 2014.  Her areas of special interest include client education, dental prophylaxis, physical rehabilitation, alternative pain management through acupuncture/massage therapy and exotics care.  While Lisa loves all animals, she especially loves helping sensitive feline patients feel at home while in a clinic environment. 
Outside of the hospital, Lisa enjoys pursuing hobbies such as archery, photography, the great outdoors, bee keeping, assisting with local ecological civilian studies, and spending time with her husband and pets.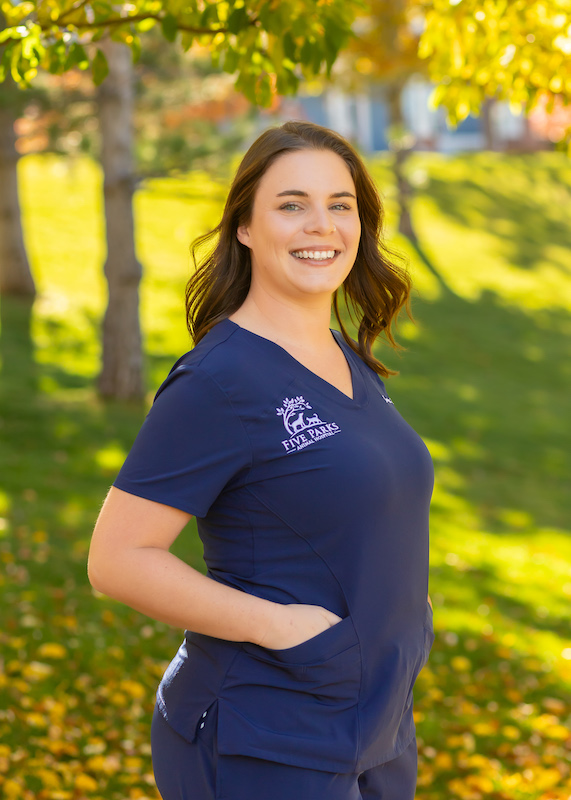 Jenna | Registered Veterinary Technician
As a child, Jenna was always trying to save wild and stray animals. She told her family that someday she was going to be a "doggy do-er" when she grew up. Jenna's love for veterinary medicine developed from working at a boarding facility and doggy day care.
Jenna served as a veterinary assistant for ten years after earning her VA Certificate from Pima Medical Institute. Her passion and true love for animals led her to obtain her certification as a Registered Veterinary Technician in January 2023. She loves client education and has a soft spot for herding breeds and senior pets. Jenna recently developed a renewed interest in surgery and has worked diligently to perfect her surgery and dentistry skills.
Outside the clinic, you'll find Jenna spending time with her husband Tanner and their five dogs! She shares her home with Nitto, Keelah, Bhlue, Oakleigh and Dually. She loves concerts, travel, good books and visiting Colorado breweries. Jenna has a special gift for learning technology and new information. Her teammates are convinced she has a photographic memory!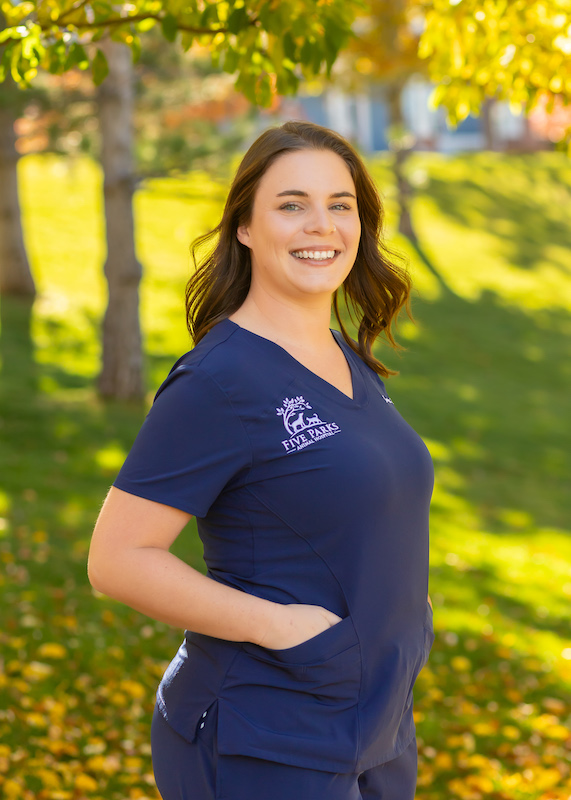 Peggy | Registered Veterinary Technician
Peggy has dedicated her veterinary career to serving clients and patients since 2001. Although she has worked in many facets of the veterinary field, including day practice and emergency, Peggy is especially proud of her Fear Free philosophy where patient handling is concerned.
In 2006, Peggy graduated from Metropolitan State University and became a licensed veterinary technician. After graduation, she completed a zookeeper internship at the Denver Zoo.
Peggy was born in South America and speaks fluent Spanish. However, she was raised in beautiful Colorado and enjoys nature and all outdoor activities. She has an affinity for art, music, plants, crystals and loves exploring new places. She shares her home with her husband Jacob, Goose, her Doberman Pinscher and a senior kitty named Tyler. Peggy's superpower is her amazing ability to connect with people. She is beloved by her teammates, clients and patients.